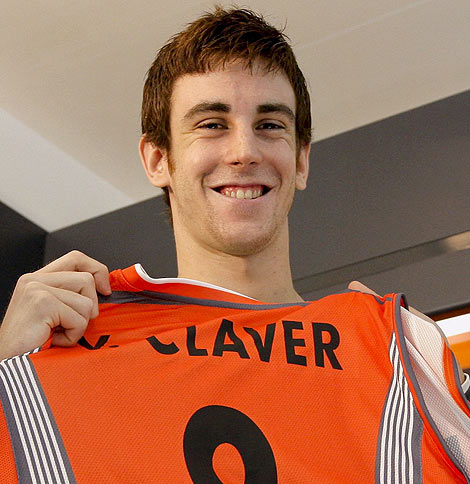 Víctor Claver has been named the best young player for the 2009-2010 Eurocup season. At 21, the Valencia forward, who is also part of the Spanish national team, had a decisive contribution for his team's achievements throughout the season, namely reaching the semi-finals of the competition.
Known for his physical abilities, dunking skills and three-point shots, Claver was the only Valencia player on the floor in the 14 games played, being second in rebounds (5.2) and steals (1.1) and third in assists (1.9) and blocks (0.5) per game within the team. He scored 8.9 points per contest and had a Eurocup career-high of 21 points, adding five rebounds, equal number of steals and four assists against Galatasaray as he was named player of the week.
Claver
succeeds Serbian Milan Mačvan
who won the distinction last season, and prepares for the Final Four's first leg against Panellinios to be played on 17th April.
(Víctor Claver foi eleito o melhor jovem jogador da temporada 2009-2010 da Eurocup. Aos 21 anos, o extremo do Valência, também membro da selecção espanhola, contribuiu decisivamente para o sucesso da equipa ao longo da época, especialmente pelo facto de ter atingido as meias-finais da competição.
Conhecido pela sua capacidade física, de afundanço e pelos lançamentos triplos, Claver foi o único jogador do Valência a disputar os 14 jogos do calendário, sendo segundo em ressaltos (5,2) e roubos de bola (1,1) e terceiro em assistências (1,9) e desarmes (0,5) por jogo na equipa. Obteve uma média de 8,9 pontos por encontro e um máximo de carreira na Eurocup de 21 pontos, aos quais acrescentou cinco ressaltos, outros tantos roubos de bola e quatro assistências, diante do Galatasaray, na semana em que foi eleito MVP.
Claver
sucede ao sérvio Milan Mačvan
, vencedor da distinção na época transacta, e prepara-se para a primeira mão da Final Four contra o Panellinios, no dia 17 de Abril.)
Source (Fonte):
eurocupbasketball.com