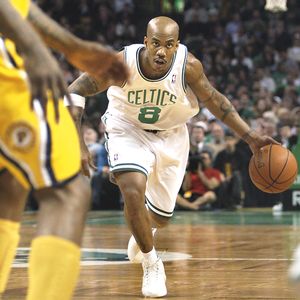 The Boston Celtics don't want him anymore and Stephon Marbury might opt to pursue a career in Europe. By acquiring Rasheed Wallace, the Celtics are not interested in re-signing the 32-year-old,
after he arrived to the team in late February
. Marbury is in talks with clubs from three European countries, including Italy, and might decide to pick an offer if no NBA team makes him the adequate proposal.
The guard recognised his limited minutes in recent times can negatively influence NBA teams interest in signing him and declared willing to play abroad if necessary.
(Os Boston Celtics já não pretendem o jogador e Stephon Marbury poderá optar por continuar a carreira na Europa. Por terem adquirido Rasheed Wallace, os Celtics não estão interessados em renovar com o jogador de 32 anos,
depois de o mesmo ter chegado à equipa no fim de Fevereiro
. Marbury está a analisar propostas de clubes de três países europeus, incluindo Itália, e poderá decidir aceitar uma delas se nenhuma equipa da NBA realizar uma oferta adequada.
O base reconheceu que o tempo de jogo limitado de que dispôs nos tempos mais recentes pode influenciar negativamente o interesse de equipas da NBA em contratá-lo, tendo afirmado estar na disposição de jogar fora do país, se necessário.)
Source (Fonte):
nypost.com