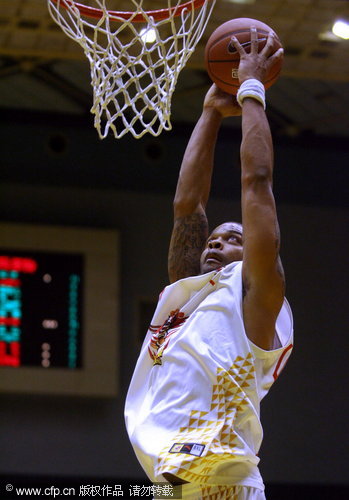 Yesterday marked an historical day in the Chinese league (CBA). In the game that opposed Shandong to Jiangsu, American Andre Emmett scored more than any other player ever in the league: 71 points. The 27-year-old guard broke the previous record set by Jilin's Sun Jun in the 2000/2001 season by one more point and helped Shandong win the game 129 to 113. Emmett shot 28 of 34 field goals, 3 of 11 from beyond the arc and 6 of 6 from the free throw line, adding 10 rebounds, four steals, three assists and a block to his performance. He was 38 minutes on the floor.
Emmett is spending his first year in China and currently leads the CBA with 32.4 points per game. After leaving college basketball (Texas Tech University) he had a short stint in the NBA with the Memphis Grizzlies and later played in Lithuania (Lietuvos Rytas), Belgium (Liège), France (Pau-Orthez) and Venezuela (Marinos Anzoátegui).
Shandong is 8th in the league table with 14 wins and 15 losses.
(O dia de ontem foi histórico na liga chinesa (CBA). No encontro que opôs o Shandong ao Jiangsu, o norte-americano Andre Emmett marcou mais do que qualquer outro jogador na história da liga: 71 pontos. O base de 27 anos bateu a anterior marca de Sun Jun, do Jilin, estabelecida em temporada 2000/2001, ao acrescentar mais um ponto e ajudou o Shandong a vencer o jogo por 129-113. Emmett converteu 28 em 34 lançamentos de campo, 3 em 11 triplos e 6 em 6 da linha de lance livre, acrescentando 10 ressaltos, quatro roubos de bola, três assistências e um desarme à exibição. Disputou um total de 38 minutos de jogo.
Emmett encontra-se na sua primeira época na China e lidera actualmente a CBA com uma média de 32,4 pontos por jogo. Depois de abandonar o basquetebol universitário (Universidade de Texas Tech), teve uma breve passagem pela NBA ao serviço dos Memphis Grizzlies, jogando posteriormente na Lituânia (Lietuvos Rytas), Bélgica (Liège), França (Pau-Orthez) e Venezuela (Marinos de Anzoátegui).
O Shandong ocupa o 8º lugar da tabela da CBA com 14 vitórias e 15 derrotas.)
Source (Fonte):
sports.sina.com.cn