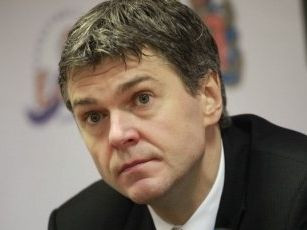 An already known top candidate for the post, Ainars Bagatskis was confirmed yesterday as the new Latvia national team coach. The successor of Kęstutis Kemzūra (
now at the helm of Lithuania
) will guide the team in the next two years and the immediate goal is the qualification for Eurobasket next year. The 42-year-old will have Roberts Štelmahers (currently coaching Perlas) as an assistant coach and will remain in charge of Russian side Enisey Krasnoyarsk.
Bagatskis is a widely known former Latvia player, having played four Eurobasket tournaments, the last of which was in 2003 in Sweden, where he averaged 14.3 points a game.
Israel, Finland, Italy and Montenegro are in Latvia's way to reach Eurobasket 2011.
(Após ter sido declarado um fortíssimo candidato ao cargo, Ainars Bagatskis foi ontem confirmado como o novo seleccionador da Letónia. O sucessor de Kęstutis Kemzūra (
agora no comando da Lituânia
) vai orientar a equipa por dois anos, sendo o objectivo imediato a qualificação para o Eurobasket do próximo ano. O técnico de 42 anos terá Roberts Štelmahers (actualmente ao serviço do Perlas) como auxiliar e continuará como treinador dos russos do Enisey Krasnoyarsk.
Bagatskis é um antigo e sobejamente conhecido internacional letão, tendo disputado quatro Eurobaskets, o último dos quais em 2003, na Suécia, onde obteve 14,3 pontos por jogo.
Israel, Finlândia, Itália e Montenegro estão no caminho da Letónia para a corrida ao Eurobasket 2011.)
Source (Fonte):
fibaeurope.com