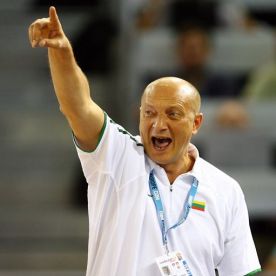 With just one win in Eurobasket 2009 Lithuania will have a new name in the coaching position as Ramūnas Butautas stepped down. The 45-year-old coach made the decision official today after the game against Serbia and yet another loss, failing to put the Lithuanians among the six best teams in the tournament and, therefore, missing a place in the World Championship next year. Butautas regreted the bad displays of the Lithuanian team throughout the tournament and thanked the fans and the federation for the support.
Butautas started his coaching career with Šiauliai in 2003, moving then to Latvia (ASK Riga) and assuming the national team helm two years ago. Next season he will coach Donetsk from Ukraine.
Speculations around the name of the new coach include Rimas Kurtinaitis, Kęstutis Kemzūra and current Greece coach Jonas Kazlauskas.
(Com apenas uma vitória no Eurobasket 2009, a Lituânia irá ter um novo seleccionador na sequência da demissão de Ramūnas Butautas. O técnico de 45 anos oficializou hoje a decisão depois do jogo contra a Sérvia e de mais uma derrota, falhando o objectivo de inclusão nas seis melhores selecções do torneio e, por conseguinte, um lugar no Campeonato do Mundo do próximo ano. Butautas lamentou as más exibições da equipa lituana ao longo do torneio e agradeceu o apoio dos adeptos e da federação.
Butautas iniciou a carreira de treinador no Šiauliai, em 2003, rumando depois à Letónia (ASK Riga) e assumindo as funções de seleccionador há dois anos. Na próxima época irá orientar o Donetsk, da Ucrânia.
As especulações em torno do nome do novo seleccionador incluem Rimas Kurtinaitis, Kęstutis Kemzūra e o actual seleccionador da Grécia, Jonas Kazlauskas.)
Source (Fonte):
15min.lt