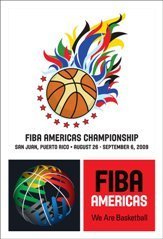 Final
Puerto Rico (Porto Rico) 60 Brazil (Brasil) 61
Brazil claimed the Americas title for the second time since 2005, winning nine of the ten matches played this year.
The MVP of the tournament was Argentinian Luis Scola, who helped his national team to win the bronze medal by beating Canada 88 to 73.
The four national teams qualified to the 2010 World Championship.
(O Brasil conquistou o título das Américas pela segunda vez desde 2005, vencendo nove dos dez jogos disputados este ano.
O MVP do torneio foi o argentino Luis Scola, que ajudou a sua selecção a arrecadar a medalha de bronze ao bater o Canadá por 88-73.
As quatro selecções apuraram-se para o Campeonato do Mundo de 2010.)